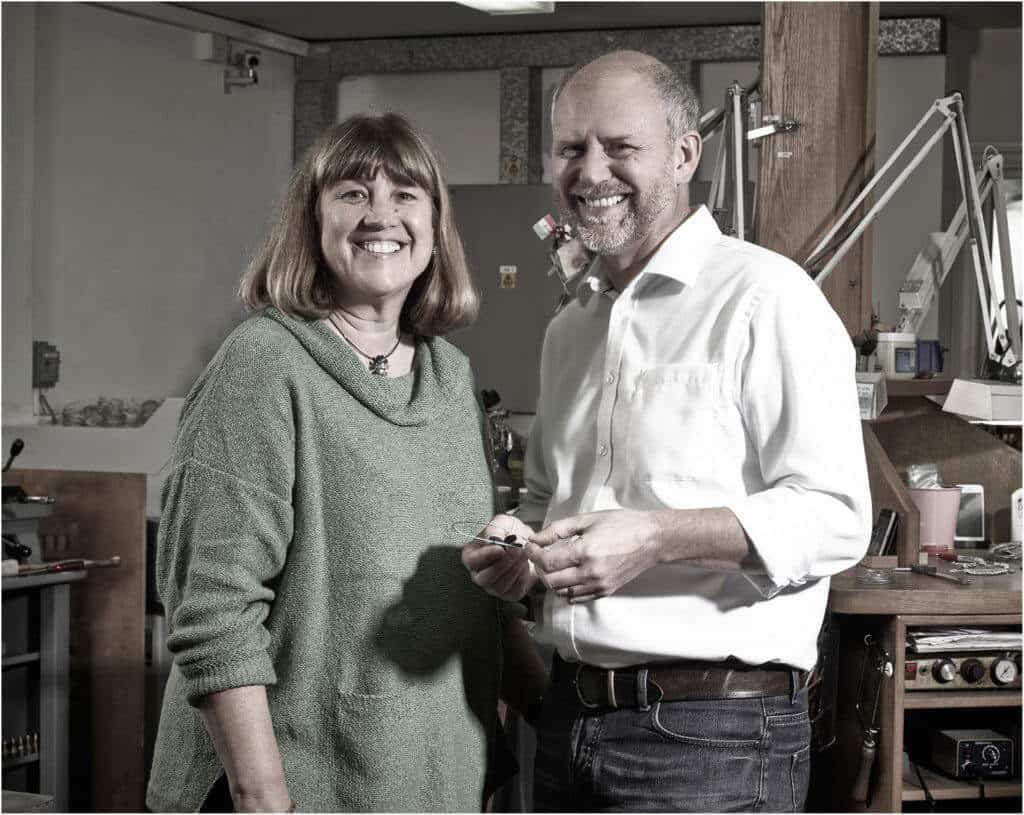 Meet Barry & Sally Milburn
Barry & Sally are accomplished designers who have worked in the international jewellery industry for over 39 years.
Resolutely passionate about jewellery, they started Prism Jewellery Design in 1980 they have been responsible for the design and development of their own-label collections, bespoke service and the evolution of the brands Contour Wedding Rings, Ti2 Titanium & Gold, Silver & Milburn & Ley Collections.
Our Journey
Barry & Sally studied jewellery at the prestigious Central St Martin's College in London, initially running a small studio by Carnaby Street producing bespoke jewellery for individual customers.
They went on to open their first retail outlet called Scarab in Sevenoaks for a company called Simbol owned by Chris Pye and Jim Robinson who continued to support them for several years.
Sally won a De Beers student design competition, which resulted in her ring designs being produced by Cartier. They also received a helping hand from the renowned Clive Billings, – The Diamond Geezer of Dragons Den fame – who championed the Prism brand, introducing it to the trade with a very positive reaction.
BARRY MILBURN
CREATIVE DIRECTOR
Originally from Newcastle, I studied and met Sally at Central St Martins. We discovered a shared passion for jewellery design which remains just as strong 34 years on. I love feeling inspired to produce new designs. For fun, sailing, and long distance walking offers both pleasure and pain in equal measure and are undertaken as often as possible.
SALLY MILBURN
CREATIVE DIRECTOR
Happy & proud to be in charge of such a lovely bunch of talented, creative & positive people at Prism Design! I love coming up with new ideas, being inspired & designing alongside my husband Barry – just not enough time in the day to make all our ideas a reality! I often wish I could stop time, slip downstairs and just sit at the bench and make something!
TONY DOWN
STUDIO MANAGER
I love history, and if I were not crafting jewellery I would be an experimental archaeologist. The whole casting process we use is based on lost wax casting, started over 6,000 years ago, I love keeping ancient skills like this alive. Maybe in my later years, I will get the opportunity to role-play, marching with Caesar or Napoleon!
AIMEE WINSTONE
JEWELLERY DESIGNER
I have been designing and making jewellery for 17 years. I specialise in designing jewellery based on nature, the sea & my travels. I have been fortunate enough to win 8 jewellery design awards, but my proudest achievement was the 'Lonmins Design Innovation Award' in 2006. In my spare time I love travelling, learning about other cultures & walking my dog Apple.
MIKE NELSON
JEWELLERY DESIGNER
I have been designing jewellery since 2003, prior to this I studied Jewellery Design at Kent University of Design. The Knowledge Transfer Partnership, which originally brought me to Prism, marked a key milestone in Prism's history as we began designing using the CAD (Computer Aided Design) system. My spare time is spent running around after my twin boys!
MARK SMITH
SENIOR JEWELLERY CRAFTSMAN
After completing a 5-year apprenticeship as a Goldsmith, I have been working as a jeweller for 35 years, making both traditional & contemporary pieces. I have a relaxing lifestyle and have lived on a canal boat for the last 17 years. I have recently fitted out my new boat, which I now cruise on the Kennet & Avon canal. I love winter travel to long haul destinations.
MICHELLE WOOD
JEWELLERY CRAFTSPERSON
I studied at the School of Jewellery for 2 years. Upon finishing my course, I travelled to Africa with a friend for a few months, and on my return to my hometown, I started working for Prism. I have been involved in some design work, but really enjoy working at the bench & engraving. In my free time, I love cooking for my friends, going to music festivals & most of all travelling the world.
HAYLEY SIBLEY
JEWELLERY CRAFTSPERSON
I love seeing a piece of jewellery created from start to finish & even after 18 years, it's a rush when you see someone in the street wearing it! Some of my closest friends are my work buddies; Mark made my engagement ring, couldn't have been more perfect. My dream is to go to Nashville with my fiancé Rik, the kids – Ronnie & Nuala, love the music & cowboy boots!

ABI WALKER
JEWELLERY STONE SETTER & CRAFTSPERSON
I grew up in Scotland by the seaside in Dunbar, and I have a Scottish/farmer accent. I am a perfectionist, everything in my life, from my home presentation to my eyelashes!. I started as an apprentice at Prism in September 2011, specialising in setting stones, a skill that you have to have lots of patience & attention to detail for.
RUTH TURNER
CUSTOMER SERVICE
I've been at Prism for 5 years & I really enjoy the happy, positive & creative atmosphere here. I enjoy spending time with my husband & daughter. In my spare time, I play golf to a reasonable standard & love holidays in Cornwall body boarding & skiing in the French Alps. My weekends are usually spent walking the dog or cycling along the canal towpath.
CURRENT OPPORTUNITIES
There are no openings at this current time.
Nurturing Talent
We are always interested in nurturing talent. If you would like to explore a career in jewellery design, please get in touch and we will keep your details on file for when future opportunities arise.
When we are actively recruiting, we will post the roles we require on this this page. For the right candidate, this could be the start of a highly creative & rewarding role, within a team that is friendly, positive & progressive.
"I love working here, we are one happy creative family, it can be challenging but we achieve things together" – Tony Down
Got What It Takes?
If you think that you would be suited to a career in jewellery design with leading designers & craftspeople, then just send an email to jewellery@ti2titanium.com explaining why you would like to become a designer or craftsperson and include some sample designs. We will keep your details on file.